Archive: POLITICS
>please note: some links may no longer be active.

Israel and Gaza: Further Insights
from Jonathan Cook:
Ever since Hamas triumphed in the Palestinian elections nearly three years ago, the story in Israel has been that a full-scale ground invasion of the Gaza Strip was imminent. But even when public pressure mounted for a decisive blow against Hamas, the government backed off from a frontal assault.
Now the world waits for Ehud Barak, the defence minister, to send in the tanks and troops as the logic of this operation is pushing inexorably towards a ground war. Nonetheless, officials have been stalling. Significant ground forces are massed on Gaza's border, but still the talk in Israel is of "exit strategies", lulls and renewed ceasefires.
Even if Israeli tanks do lumber into the enclave, will they dare to move into the real battlegrounds of central Gaza? Or will they simply be used, as they have been in the past, to terrorise the civilian population on the peripheries?
Israelis are aware of the official reason for Mr Barak's reticence to follow the air strikes with a large-scale ground war. They have been endlessly reminded that the worst losses sustained by the army in the second intifada took place in 2002 during the invasion of Jenin refugee camp.
Gaza, as Israelis know only too well, is one mammoth refugee camp. Its narrow alleys, incapable of being negotiated by Merkava tanks, will force Israeli soldiers out into the open. Gaza, in the Israeli imagination, is a death trap.
Similarly, no one has forgotten the heavy toll on Israeli soldiers during the ground war with Hizbollah in 2006. In a country such as Israel, with a citizen army, the public has become positively phobic of a war in which large numbers of its sons will be placed in the firing line.
That fear is only heightened by reports in the Israeli media that Hamas is praying for the chance to engage Israel's army in serious combat. The decision to sacrifice many soldiers in Gaza is not one Mr Barak, leader of the Labor Party, will take lightly with an election in six weeks.
Cook's full piece
from Uri Avnery:
JUST AFTER MIDNIGHT, Aljazeera's Arabic channel was reporting on events in Gaza. Suddenly the camera was pointing upwards towards the dark sky. The screen was pitch black. Nothing could be seen, but there was a sound to be heard: the noise of airplanes, a frightening, a terrifying droning.
It was impossible not to think about the tens of thousands of Gazan children who were hearing that sound at that moment, cringing with fright, paralyzed by fear, waiting for the bombs to fall.
* * *
"ISRAEL MUST defend itself against the rockets that are terrorizing our Southern towns," the Israeli spokesmen explained. "Palestinians must respond to the killing of their fighters inside the Gaza Strip," the Hamas spokesmen declared.
As a matter of fact, the cease-fire did not collapse, because there was no real cease-fire to start with. The main requirement for any cease-fire in the Gaza Strip must be the opening of the border crossings. There can be no life in Gaza without a steady flow of supplies. But the crossings were not opened, except for a few hours now and again. The blockade on land, on sea and in the air against a million and a half human beings is an act of war, as much as any dropping of bombs or launching of rockets. It paralyzes life in the Gaza Strip: eliminating most sources of employment, pushing hundreds of thousands to the brink of starvation, stopping most hospitals from functioning, disrupting the supply of electricity and water.
Those who decided to close the crossings – under whatever pretext – knew that there is no real cease-fire under these conditions.
That is the main thing. Then there came the small provocations which were designed to get Hamas to react. After several months, in which hardly any Qassam rockets were launched, an army unit was sent into the Strip "in order to destroy a tunnel that came close to the border fence". From a purely military point of view, it would have made more sense to lay an ambush on our side of the fence. But the aim was to find a pretext for the termination of the cease-fire, in a way that made it plausible to put the blame on the Palestinians. And indeed, after several such small actions, in which Hamas fighters were killed, Hamas retaliated with a massive launch of rockets, and – lo and behold – the cease-fire was at an end. Everybody blamed Hamas.
* * *
WHAT WAS THE AIM? Tzipi Livni announced it openly: to liquidate Hamas rule in Gaza. The Qassams served only as a pretext.
Liquidate Hamas rule? That sounds like a chapter out of "The March of Folly". After all, it is no secret that it was the Israeli government which set up Hamas to start with. When I once asked a former Shin-Bet chief, Yaakov Peri, about it, he answered enigmatically: "We did not create it, but we did not hinder its creation."
For years, the occupation authorities favored the Islamic movement in the occupied territories. All other political activities were rigorously suppressed, but their activities in the mosques were permitted. The calculation was simple and naive: at the time, the PLO was considered the main enemy, Yasser Arafat was the current Satan. The Islamic movement was preaching against the PLO and Arafat, and was therefore viewed as an ally.
With the outbreak of the first intifada in 1987, the Islamic movement officially renamed itself Hamas (Arabic initials of "Islamic Resistance Movement") and joined the fight. Even then, the Shin-Bet took no action against them for almost a year, while Fatah members were executed or imprisoned in large numbers. Only after a year, were Sheikh Ahmed Yassin and his colleagues also arrested.
Since then the wheel has turned. Hamas has now become the current Satan, and the PLO is considered by many in Israel almost as a branch of the Zionist organization. The logical conclusion for an Israeli government seeking peace would have been to make wide-ranging concessions to the Fatah leadership: ending of the occupation, signing of a peace treaty, foundation of the State of Palestine, withdrawal to the 1967 borders, a reasonable solution of the refugee problem, release of all Palestinian prisoners. That would have arrested the rise of Hamas for sure.
But logic has little influence on politics. Nothing of this sort happened. On the contrary, after the murder of Arafat, Ariel Sharon declared that Mahmoud Abbas, who took his place, was a "plucked chicken". Abbas was not allowed the slightest political achievement. The negotiations, under American auspices, became a joke. The most authentic Fatah leader, Marwan Barghouti, was sent to prison for life. Instead of a massive prisoner release, there were petty and insulting "gestures".
Abbas was systematically humiliated, Fatah looked like an empty shell and Hamas won a resounding victory in the Palestinian election – the most democratic election ever held in the Arab world. Israel boycotted the elected government. In the ensuing internal struggle, Hamas assumed direct control over the Gaza Strip.
And now, after all this, the government of Israel decided to "liquidate Hamas rule in Gaza" – with blood, fire and columns of smoke.
Avnery's full piece
from James Petras:
Because of the unconditional support of the entire political class in the US, from the White House to Congress, including both Parties, incoming and outgoing elected officials and all the principle print and electronic mass media, the Israeli Government feels no compunction in publicly proclaiming a detailed and graphic account of its policy of mass extermination of the population of Gaza.
Israel's sustained and comprehensive bombing campaign of every aspect of governance, civic institutions and society is directed toward destroying civilized life in Gaza. Israel's totalitarian vision is driven by the practice of a permanent purge of Arab Palestine informed by Zionism, an ethno-racist ideology, promulgated by the Jewish state and justified, enforced and pursued by its organized backers in the United States.
The facts of Israeli extermination have become known: In the first six days of round the clock terror bombing of major and minor populations centers, the Jewish State has murdered and seriously maimed over 2,500 people, mostly dismembered and burned in the open ovens of missile fire. Scores of children and women have been slaughtered as well as defenseless civilians and officials.
They have sealed off all access to Gaza and declared it a military, free fire zone, while expanding their target to include the entire population of 1.5 millions semi-starved prisoners. According to the Boston Globe (December 30, 2008): Israeli military officials said their target lists have expanded to include the vast support network on which the Islamist movement relies to stay in power "…we are trying to hit the whole spectrum, because everything is connected and everything supports terrorism against Israel (my emphasis)". A top Israeli in its secret police apparatus is quoted saying, "Hamas' civilian infrastructure is a very sensitive target" (ibid). What the Israeli Jewish politicians and military planners designate as "Hamas" is the entire social service network, the entire government and the vast majority of economic activity, embracing almost the entire 1.5 million imprisoned residents of Gaza.
Israel's 'target' list thus involves the 'total population', using the totality of its non-nuclear weaponry and for an unlimited time period (until the 'bitter end' according to the Israeli Prime Minister). Israel's defense ministry spokesman has emphatically reiterated the Jewish's state's totalitarian war concept emphasizing the targeting of civilians: "Hamas has used ostensibly civilian operations as a cover for military activities. Anything affiliated with Hamas is a legitimate target."
Like all totalitarians in the past, the Jewish state boasts of having systematically pre-planned the extermination campaign – months in advance – up to and including the precise hour and day of the bombing to coincide with inflicting the maximum murder of civilians: The rockets and bombs fell as children were leaving school, as graduating police cadets were receiving their diplomas and as frantic mothers ran out from their homes to find their sons and daughters.
The mass military extermination campaign was a follow up of its non-stop total economic embargo and unremitting selective assassination campaign of the previous two years: Both were designed to purge Palestine of its Arab population, first via mass hunger, disease, humiliation and violent intimidation and the proxy power grab by the PLO Quislings under Zionist puppet Abbas. When they discovered that mass hunger and selective Israeli murder only strengthened the population's links to its democratically elected government and the resolve of the Hamas government to resist Israel, the Israeli regimes unleashed its entire arsenal of weapons, including its new 'American gifts' up-to-date 1000 pound 'bunker buster' bombs and high tech missiles to incinerate large numbers of human beings within their deadly radius and to obliterate Palestinian civilization.
Moving directly from its totalitarian vision to its military blueprint to the savaging of Palestinian population centers, the Jewish state destroyed the principle university with over 18,000 students (mostly women), mosques, pharmacies, electrical and water lines, power stations, fishing villages, fishing boats and the little fishing port that provided a meager supply of fish for the starving population. They destroyed roads, transport facilities, food warehouses, science buildings, small factories, shops and apartments. They destroyed a women's dormitory at the university. In the words of the Israel leader: "…because everything is connected to everything…" it is necessary to destroy each and every facet of life, which allows humans to exist with some dignity and independence.
Petras' full piece

So Much for Change
Come and see the blood in the streets.
Come and see
the blood in the streets.
Come and see the blood
in the streets.
Poem by Pablo Neruda, "I'm Explaining a Few Things"
Barack Obama has passed his first test with flying colors. He's made himself disappear so Israel can continue its killing spree in Gaza. The last time a president shrunk this small was when Ariel Sharon took his wrecking-ball through Jenin during the second intifada. Bush slipped down a mouse hole so Israel's "Man of Peace" could finish his dirty work unopposed. Now Obama has taken refuge in that same dark hideaway. What a relief it must be for his critics at AIPAC and the far-right think tanks to know that the next Commander in Chief will be every bit as compliant as the last. That's "continuity they can believe in".
Obama has remained serenely detached while American-made F-16's have dumped more than one hundred tons of lethal ordnance on the captive population of Gaza. In fact, the president-elect has spent more time working on his abs at the Semper Fit gym in Honolulu than trying to stop the bloody onslaught which has already resulted in the deaths of over 300 Palestinians, half of who are civilians.
When asked why he hasn't given his opinion on the conflict, Obama spokesman have blandly stated, "There's only one president at a time".
Uh-huh. So why was Obama so quick to condemn Russia's invasion of South Ossetia? Is the yardstick for measuring aggression different in the Caucasus than it is in the Middle East? Or is it because politicians are just too afraid to cross Israel?
"If somebody shot rockets at my house where my two daughters were sleeping at night, I'd do everything in my power to stop them," Obama proclaimed on a recent visit to Israel.
Right. It's too bad Palestinian parents can't claim that same right without being branded as terrorists.
Perhaps Obama's inaction will finally put to rest the idea that he's a man who is seriously committed to justice or change. He's not. He's nothing more than an ambitious and well-spoken young man who's being used to conceal the genocidal operation of the imperial machine; a fact that is particularly poignant on a day like December 29, the 118th anniversary of Wounded Knee, when more than 200 Lakota Sioux were mowed down by the 7th Cavalry on the Pine Ridge Reservation marking the end of the Indian Wars. Like the Palestinians, the Indians were guilty of nothing more than having been born in the wrong place at the wrong time. Needless to say, if Obama had been around then, he would have looked askance and bit his tongue just as he has today. The truth is Obama is a "cool guy" who doesn't really feel that strongly about anything. That's why Obama's moral authority has been gravely eroded before he's even been sworn in. The bloody streets of Gaza are an indictment of Obama not Hamas.
more from Mike Whitney at Counterpunch
and a related – and revealing – anecdote from Jonathan Schwarz

The Awful Truth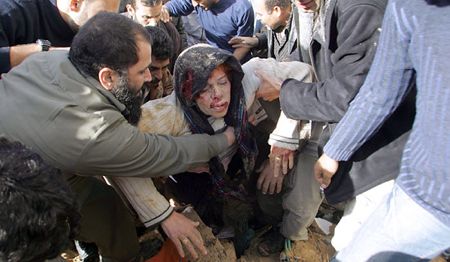 Here is a simple, stone cold fact. You cannot read or hear the truth about what is happening in Gaza from any corporate media in the United States. The only thing you will find there are regurgitations of Israeli spin, which are themselves only regurgitations of the kind of spin that American militarists have put on their own depredations -- for centuries now. Up and down the American media and political establishments, you will find nothing but bleatings about Israel being "forced" to launch its vicious blunderbuss attacks against heavily populated Gaza because of the "recent spate of Hamas bombings" since the end of a six-month ceasefire.
This is of course a damnable and deliberate lie. Papers in Israel -- in Israel, but not the United States -- are reporting the truth: the murderous assault on Gaza was planned not only before the six-month ceasefire ended -- it was planned before the cease-fire even took effect. Indeed, the cease-fire was part of the military plan to decimate the civilian areas of Gaza; it was a hoax, a scam, a deliberate feint to buy time for military preparations -- precisely the same strategy followed by the Bush Regime (and its bipartisan Establishment supporters) in "going to the UN" to seek a "peaceful solution" to the "Iraqi crisis" -- when the invasion was already in the works.
Haaretz reports on the Israel's deceit in the latest outrage, in the aptly titled piece, "Disinformation, secrecy and lies: How the Gaza offensive came about":

Long-term preparation, careful gathering of information, secret discussions, operational deception and the misleading of the public - all these stood behind the Israel Defense Forces "Cast Lead" operation against Hamas targets in the Gaza Strip, which began Saturday morning. he disinformation effort, according to defense officials, took Hamas by surprise and served to significantly increase the number of its casualties in the strike.
Sources in the defense establishment said Defense Minister Ehud Barak instructed the Israel Defense Forces to prepare for the operation over six months ago, even as Israel was beginning to negotiate a ceasefire agreement with Hamas. According to the sources, Barak maintained that although the lull would allow Hamas to prepare for a showdown with Israel, the Israeli army needed time to prepare, as well..
The story also notes that the recent racheting of tension was sparked, deliberately, by a heavy-handed Israeli incursion into Gaza:
The plan of action that was implemented in Operation Cast Lead remained only a blueprint until a month ago, when tensions soared after the IDF carried out an incursion into Gaza during the ceasefire to take out a tunnel which the army said was intended to facilitate an attack by Palestinian militants on IDF troops....
While Barak was working out the final details with the officers responsible for the operation, Livni went to Cairo to inform Egypt's president, Hosni Mubarak, that Israel had decided to strike at Hamas. In parallel, Israel continued to send out disinformation in announcing it would open the crossings to the Gaza Strip and that Olmert would decide whether to launch the strike following three more deliberations on Sunday - one day after the actual order to launch the operation was issued.
"Hamas evacuated all its headquarter personnel after the cabinet meeting on Wednesday," one defense official said, "but the organization sent its people back in when they heard that everything was put on hold until Sunday."
Not only did this deception lead Hamas to send its officials back to work -- it also meant that there was no general warning to the masses of civilians packed like sardines into Gaza's hellish confines. It meant that civilian casualties would be maximized -- especially when the initial assault was launched in the middle of the day, with thousands of schoolchildren out at their lesson.
more from Chris Hedges, who, unlike the American mainstream media, provides crucial context to this appalling Israeli action.
further perspective from Glenn Greenwald
and from Rami G. Khouri
and from Dr. Mustafa Barghouthi

Obama: Not So Liberal
I didn't know much about Obama's choice for Interior Secretary (Ken Salazar), but all the information I needed was contained in these two paragraphs from the New York Times article about the appointment ("Environmentalists Wary of Obama's Interior Pick"):
Oil and mining interests praised Mr. Salazar's performance as a state official and as a senator, saying that he was not doctrinaire about the use of public lands. "Nothing in his record suggests he's an ideologue," said Luke Popovich, spokesman for the National Mining Association. "Here's a man who understands the issues, is open-minded and can see at least two sides of an issue." ...
"He is a right-of-center Democrat who often favors industry and big agriculture in battles over global warming, fuel efficiency and endangered species," said Kieran Suckling, executive director of Center for Biological Diversity, which tracks endangered species and habitat issues. "He is very unlikely to bring significant change to the scandal-plagued Department of Interior. It's a very disappointing choice for a presidency which promised visionary change."
Oil and mining interests happy? Check. Environmentalists unhappy? Check. Yes, I believe I get the picture. The usual translation applies, by the way: "ideologue" = someone insufficiently dedicated to advancing corporate interests. I'm sure Suckling, as an actual environmentalist, qualifies.
But this is the most important paragraph in the article:
Mr. Salazar, wearing his customary ten-gallon hat and bolo tie, said that his job entails helping the nation address climate change through a "moon shot" on energy independence. But that would include not just the development of "green" energy sources like wind power, but also the continued domestic development of coal, oil and natural gas, fossil fuels that generate greenhouse gases when they are burned.
Addressing climate change through the continued development of coal is like addressing drug addiction through the continued freebasing of heroin. Handwaving about the unicorn of "clean coal" aside, though, Obama has done nothing but genuflect to coal and mining interests, and this is just one more bow. But why should we worry? It's not like the fate of the entire planet hangs in the balance. Oh, wait.
more from John Caruso at tinyrevolution
and further interesting insights into Salazar from Phillip Doe

Beyond Outrageous
The United States, Russia and China are sending a terrible message to the rest of the world by refusing to take part in the historic signing of a treaty that bans the production and use of cluster bombs. In a world that is plagued by war, military occupation and terrorism, the involvement of the great military powers in signing and ratifying the agreement would have signaled — if even symbolically — the willingness of these countries to spare civilians' unjustifiable deaths and the lasting scars of war.
Nonetheless, the incessant activism of many conscientious individuals and organizations came to fruition on December 3-4 when ninety-three countries signed a treaty in Oslo, Norway that bans the weapon, which has killed and maimed many thousands of civilians.
The accord was negotiated in May, and should go into effect in six months, once it is ratified by 30 countries. There is little doubt that the treaty will be ratified; in fact, many are eager to be a member of the elite group of 30. Unfortunately, albeit unsurprisingly, the US, Russia, China, Israel, India and Pakistan — a group that includes the biggest makers and users of the weapon — neither attended the Ireland negotiations, nor did they show any interest in signing the agreement.
The US argues that cluster bombs are a legitimate weapon, essential to repel the advancing columns of enemy troops. If such a claim carried an iota of legitimacy, then the weapon's use should have ended with the end of conventional wars in the mid twentieth century. However, cluster bombs are still heavily utilized in wars fought in or around civilian areas.
Most countries that have signed the accords are not involved in any active military conflict and are not in any way benefiting from the lucrative cluster munition industry. The hope, however is that once a majority of countries, including the Holy See, sign the agreement, the use of the lethal weapon will be greatly stigmatized.
The treaty was the outcome of intensive campaigning by the Cluster Munition Coalition (CMC), a group of non-governmental organizations. CMC is determined to carry on with its campaigning to bring more signatories to the fold.
But without the involvement of the major producers and active users of the weapon, the Oslo ceremony will remain largely symbolic. However, there is nothing symbolic about the pain and bitter losses experienced by the cluster bombs' many victims. According to the group Handicap International, one-third of cluster-bomb victims are children. Equally alarming, 98 percent of the weapon's overall victims are civilians. The group estimates that about 100,000 people have been maimed or killed by cluster bombs around the world since 1965.
It certainly is unconscionable that countries who have the chutzpa to impose themselves as the guardians of human rights are the same who rebuff such initiatives and insist on their right to utilize such a killing tool. Unlike conventional weapons, cluster bomblets survive for many years, luring little children with their attractive looks. Children have often mistaken them for candy or toys.
Steve Goose, the arms director of Human Rights Watch described the countries that refused to sign as standing "on the wrong side of history. Some of them are clinging to what is now a widely discredited weapon."
But there is more to that refusal than clinging onto an outdated military philosophy. The cluster munition industry is thriving. The weapon was used in massive quantities by the US army in Afghanistan, Iraq, Israel in Lebanon and both parties in the S. Ossetia conflict. The British also used it in Iraq, making handsome deals with the weapons' Israeli manufacturer.
13 year-old Ayat Suliman now lives in Sweden. In an AFP report, she complained, referring to her peers: "Nobody understands me. They all think I'm ugly." It was on May 5, 2003 that Ayat's brother came running with what he thought was a dazzling toy. "I remember that it was very colorful and very nice," said Ayat. The explosion that rocked the little girl's house in Iraq claimed the lives of her four brothers and cousin, aged 3 to 15. Most of Ayat's body was burned as a result, and she is still unable to walk independently.
Ahmad Mokaled of the Lebanese town of Nabatieh at the border with Israel was about to celebrate his fifth birthday when he too found a shiny object. Ahmad's last words, according to his father, who was busily setting up his son's birthday picnic in a park, were: 'Dad, Help me.' He died, but after "four long hours of suffering."
more from Ramzy Baroud at dissidentvoice

If you could just see facts flat-on without that horrible moral squint...
Cardinal Wolsey (Orson Welles) admonishing Sir Thomas More (Paul Scofield) in the classic Fred Zinnemann film A Man For All Seasons

Dick Cheney: Revisionist Liar
In yet another attempt at revisionist history by the outgoing Bush administration, vice-president Dick Cheney, in an exclusive interview with ABC News, took exception to former presidential adviser Karl Rove's contention that the US would not have gone to war if available intelligence before the invasion had shown Iraq not to possess weapons of mass destruction. Cheney noted that the only thing the US got wrong on Iraq was that there were no stockpiles of WMD at the time of the 2003 invasion. "What they found was that Saddam Hussein still had the capability to produce weapons of mass destruction. He had the technology, he had the people, he had the basic feed stock."
The vice-president should re-check both his history and his facts. Just prior to President Bush's decision to invade Iraq, the UN had teams of weapons inspectors operating inside Iraq, blanketing the totality of Iraq's industrial infrastructure. They found no evidence of either retained WMD, or efforts undertaken by Iraq to reconstitute a WMD manufacturing capability. Whatever dual-use industrial capability that did exist (so-called because the industrial processes involved to produce legitimate civilian or military items could, if modified, be used to produce materials associated with WMD) had been so degraded as a result of economic sanctions and war that any meaningful WMD production was almost moot. To say that Saddam had the capability or the technology to produce WMD at the time of the US invasion is a gross misrepresentation of the facts.
Former weapons inspector Scott Ritter, who, despite accurately predicting prior to the invasion that Iraq would be found to have no WMD, has outrageously been (mostly) blackballed by the U.S. mainstream media. But he has more to say about Cheney in the British newspaper The Guardian

What a Few Pirates Can Tell Us
From Chuck Spinney:
My good friend Pierre Sprey forwarded this amazing quote by Vice Admiral Bill Gortney. Pierre's comments are [italicized]...My comments follow...
An utterly convincing testimonial, from an expert witness with flawless credentials, regarding the benefits of quality over quantity for the fleet:
"The U.S. commander in charge of the waters off Somalia, Vice Adm. Bill Gortney, told CNN on Monday that he thought it would take a force of 61 warships to safeguard the sea lanes just in the Gulf of Aden, compared with the 14 international ships now patrolling off the Horn of Africa. If the U.S. Navy alone had to provide a force that size, it would take every destroyer and cruiser in the fleet, plus three frigates. ( Navy Times, 12/09/08 )"
In other words, the USN's pursuit of ever more "capable" ships has provided America with a fleet that is incapable of handling the Somali pirates.

[Spinney]: In January, it is my understanding that the Pentagon will request a budget of about $581 billion for its core budget, i.e., not including the cost of the wars in Iraq and Afghanistan. The Department of the Navy's share of this budget should be something on the order of $150-160 billion a year, yet Admiral Gortney is telling us that securing the Horn of Africa from a gang of rag tag Somali pirates will take every cruiser and destroyer in the Navy plus 3 or its Frigates. This means the Navy would not enough surface warships left over to configure the normal defense screen for even one carrier battle group. Since the United States is spending about as much on defense as the rest of the world combined, Gortney's confession raises a basic question about about the Pentagon's competence to do its job.
For those of you who are interested in understanding (1) the reasons why this ridiculous state of affairs is an inevitable product of business as usual in the Pentagon and (2) why a bailout for the Pentagon is guaranteed to worsen this state of affairs, I recommend you download or purchase America's Defense Meltdown … this book pretty well covers the waterfront of the problems that have put all of our military forces into variations of the Navy's reductio ad absurdum.
What makes this book unique inside the Beltway is that it is not written by pseudo-intellectuals, sequestered in thinktanks as they await Mr. Obama's call to glory. It is written by the dirty unwashed — working level people who have fought and bled in the trenches of Versailles on the Potomac for a collective total of over 350 years. Most truncated their careers by standing up for what they believed in, or for matters of principle, or for committing that most hateful of all faux pas in in the Hall of Mirrors — TRUTH.
more from Spinney at the important blog Defense and the National Interest

Mumbai: Cautionary (Film) Tales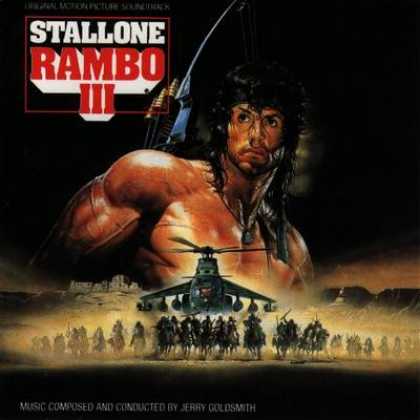 If Condoleezza Rice had been looking for some in-flight movies pertinent to her mission in South Asia over the past few days, she ought to have considered Rambo III. Or Pinocchio. Or Frankenstein. Aladdin, even.
All four could help explain the background to the Mumbai massacre that has brought India and Pakistan to the brink of confrontation. Pinocchio and Frankenstein, after all, are cautionary tales about how those who fabricate creatures to do their bidding are often forced to reckon with the often vindictive impulses of their creations. Aladdin unleashes a genie who has his own agenda. And Rambo III, in which Sylvester Stallone's action-hero joins up with the Afghan mujahideen to fight the Soviets (just like a certain Mr Bin Laden) should serve as a timely reminder that support for holy warriors waging jihad had been an article of faith in Ronald Reagan's Washington.
Pakistan's intelligence service, the ISI, had served as the conduit for Washington to use the Afghan mujahideen and the Arab volunteers who joined them, to wage a proxy war on the Soviets. And from the first World Trade Center bombing in 1993 to the 9/11 attacks, the monster created by assembling an Islamist International for combat and training in Afghanistan turned on its erstwhile patron to deadly effect.
But after the US walked away when the Soviets limped out of Afghanistan, the Pakistanis used the proxy war model to pursue their own regional agenda. They nurtured the Taliban, turning it from a radical student movement into a militia that easily conquered most of Afghanistan in 1996, to ensure that feuding mujahideen commanders were subordinated to a single authority under Pakistan's tutelage. Waging proxy war through jihadist groups also became the centrepiece of their military strategy for confronting India in Kashmir. Foremost among the militant groups cultivated by the Pakistani ISI for this purpose was Lashkar-i-Taiba, the group that appears to have orchestrated the Mumbai massacre.
read the rest of Tony Karon's piece in Abu Dhabi's The National

Some Afghan History for You (and Obama)
Barack Obama is on record as advocating a military escalation in Afghanistan. Before sinking any deeper into that quagmire, we might do well to learn something about recent Afghan history and the role played by the United States.
Less than a month after the 11 September 2001 attacks on the World Trade Center and the Pentagon, US leaders began an all-out aerial assault upon Afghanistan, the country purportedly harboring Osama bin Laden and his al Qaeda terrorist organization. More than twenty years earlier, in 1980, the United States intervened to stop a Soviet "invasion" of that country. Even some leading progressive writers, who normally take a more critical view of US policy abroad, treated the US intervention against the Soviet-supported government as "a good thing." The actual story is not such a good thing.
Some Real History
Since feudal times the landholding system in Afghanistan had remained unchanged, with more than 75 percent of the land owned by big landlords who comprised only 3 percent of the rural population. In the mid-1960s, democratic revolutionary elements coalesced to form the People's Democratic Party (PDP). In 1973, the king was deposed, but the government that replaced him proved to be autocratic, corrupt, and unpopular. It in turn was forced out in 1978 after a massive demonstration in front of the presidential palace, and after the army intervened on the side of the demonstrators.
The military officers who took charge invited the PDP to form a new government under the leadership of Noor Mohammed Taraki, a poet and novelist. This is how a Marxist-led coalition of national democratic forces came into office. "It was a totally indigenous happening. Not even the CIA blamed the USSR for it," writes John Ryan, a retired professor at the University of Winnipeg, who was conducting an agricultural research project in Afghanistan at about that time.
The Taraki government proceeded to legalize labor unions, and set up a minimum wage, a progressive income tax, a literacy campaign, and programs that gave ordinary people greater access to health care, housing, and public sanitation. Fledgling peasant cooperatives were started and price reductions on some key foods were imposed.
The government also continued a campaign begun by the king to emancipate women from their age-old tribal bondage. It provided public education for girls and for the children of various tribes.
A report in the San Francisco Chronicle (17 November 2001) noted that under the Taraki regime Kabul had been "a cosmopolitan city. Artists and hippies flocked to the capital. Women studied agriculture, engineering and business at the city's university. Afghan women held government jobs—-in the 1980s, there were seven female members of parliament. Women drove cars, traveled and went on dates. Fifty percent of university students were women."
The Taraki government moved to eradicate the cultivation of opium poppy. Until then Afghanistan had been producing more than 70 percent of the opium needed for the world's heroin supply. The government also abolished all debts owed by farmers, and began developing a major land reform program. Ryan believes that it was a "genuinely popular government and people looked forward to the future with great hope."
But serious opposition arose from several quarters. The feudal landlords opposed the land reform program that infringed on their holdings. And tribesmen and fundamentalist mullahs vehemently opposed the government's dedication to gender equality and the education of women and children.
Because of its egalitarian and collectivist economic policies the Taraki government also incurred the opposition of the US national security state. Almost immediately after the PDP coalition came to power, the CIA, assisted by Saudi and Pakistani military, launched a large scale intervention into Afghanistan on the side of the ousted feudal lords, reactionary tribal chieftains, mullahs, and opium traffickers.
A top official within the Taraki government was Hafizulla Amin, believed by many to have been recruited by the CIA during the several years he spent in the United States as a student. In September 1979, Amin seized state power in an armed coup. He executed Taraki, halted the reforms, and murdered, jailed, or exiled thousands of Taraki supporters as he moved toward establishing a fundamentalist Islamic state. But within two months, he was overthrown by PDP remnants including elements within the military.
It should be noted that all this happened before the Soviet military intervention. National security adviser Zbigniew Brzezinski publicly admitted--months before Soviet troops entered the country--that the Carter administration was providing huge sums to Muslim extremists to subvert the reformist government. Part of that effort involved brutal attacks by the CIA-backed mujahideen against schools and teachers in rural areas.
In late 1979, the seriously besieged PDP government asked Moscow to send a contingent of troops to help ward off the mujahideen (Islamic guerrilla fighters) and foreign mercenaries, all recruited, financed, and well-armed by the CIA. The Soviets already had been sending aid for projects in mining, education, agriculture, and public health. Deploying troops represented a commitment of a more serious and politically dangerous sort. It took repeated requests from Kabul before Moscow agreed to intervene militarily.
Jihad and Taliban, CIA Style
The Soviet intervention was a golden opportunity for the CIA to transform the tribal resistance into a holy war, an Islamic jihad to expel the godless communists from Afghanistan. Over the years the United States and Saudi Arabia expended about $40 billion on the war in Afghanistan. The CIA and its allies recruited, supplied, and trained almost 100,000 radical mujahideen from forty Muslim countries including Pakistan, Saudi Arabia, Iran, Algeria, and Afghanistan itself. Among those who answered the call was Saudi-born millionaire right-winger Osama bin Laden and his cohorts.
more from Michael Parenti

A Searing Indictment of Torture
While it strikes me as self-evident, if any readers are not yet convinced of the perverse nature and results of the current Administration's torture policy, this first-hand, front line piece should be read.
I'm not some ivory-tower type; I served for 14 years in the U.S. Air Force, began my career as a Special Operations pilot flying helicopters, saw combat in Bosnia and Kosovo, became an Air Force counterintelligence agent, then volunteered to go to Iraq to work as a senior interrogator. What I saw in Iraq still rattles me -- both because it betrays our traditions and because it just doesn't work.
Violence was at its peak during my five-month tour in Iraq. In February 2006, the month before I arrived, Zarqawi's forces (members of Iraq's Sunni minority) blew up the golden-domed Askariya mosque in Samarra, a shrine revered by Iraq's majority Shiites, and unleashed a wave of sectarian bloodshed. Reprisal killings became a daily occurrence, and suicide bombings were as common as car accidents. It felt as if the whole country was being blown to bits.
Amid the chaos, four other Air Force criminal investigators and I joined an elite team of interrogators attempting to locate Zarqawi. What I soon discovered about our methods astonished me. The Army was still conducting interrogations according to the Guantanamo Bay model: Interrogators were nominally using the methods outlined in the U.S. Army Field Manual, the interrogators' bible, but they were pushing in every way possible to bend the rules -- and often break them. I don't have to belabor the point; dozens of newspaper articles and books have been written about the misconduct that resulted. These interrogations were based on fear and control; they often resulted in torture and abuse.
I refused to participate in such practices, and a month later, I extended that prohibition to the team of interrogators I was assigned to lead. I taught the members of my unit a new methodology -- one based on building rapport with suspects, showing cultural understanding and using good old-fashioned brainpower to tease out information. I personally conducted more than 300 interrogations, and I supervised more than 1,000. The methods my team used are not classified (they're listed in the unclassified Field Manual), but the way we used them was, I like to think, unique. We got to know our enemies, we learned to negotiate with them, and we adapted criminal investigative techniques to our work (something that the Field Manual permits, under the concept of "ruses and trickery"). It worked. Our efforts started a chain of successes that ultimately led to Zarqawi.
read the full, powerful piece in the Washington Post

The Complicated History Behind the Mumbai Attack
In stark contrst to the convenient, and predictably phony narrative which is popping up in the mainstream American media, the awful attacks occurred not because Muslims "hate our freedoms", or any such nonsense. Juan Cole, a true expert in the area, provides some excellent historical background below.
Leaks to the Indian press by security officials in charge of interrogating the captured terrorist, Ajmal Amir Kamal (or Qasab?) are fleshing out the background of the attack on Mumbai and clarifying the evidence that it was an operation of the Lashkar-e Tayiba [the "Army of the Good"].
The Indian counterpart of the CIA, the Research and Analysis Wing (RAW), intercepted a cell phone call on November 18 to a number in Lahore, Pakistan, known to be that of a Lashkar-i Tayiba handler, saying that the caller was heading to Mumbai. They later found the phone itself on a hijacked Indian fishing boat, which the attackers had taken over to camouflage their approach to the port.
The sole captured LeT operative, Kamal, is said by the Indian press to be from Faridkot village near Dipalpur Tahsil in Okara District of Pakistani Punjab, southwest of Lahore [I saw one article, which I can no longer retrieve, in which the Indian press mispelled the tahsil or county as Gipalpur]). This is such a remote and little-known place that even Pakistani newspapers were having difficulty tracking it down).
Kamal is said to be telling Indian security that he and the others trained in camps in Pakistani Kashmir. (The original princely state of Kashmir, largely Muslim, is divided, with one third in Pakistani hands and two-thirds in Indian; India joined its portion to largely Hindu Jammu to create the province of Jammu and Kashmir.)
The Kashmir police have gotten good enough at counter-terrorism measures that elements of the LeT may have decided to go after a soft target such as Mumbai instead.
The story begins with the 1977 coup of Gen. Zia ul-Haqq, a Muslim fundamentalist who hanged his boss, PM Zulfikar Ali Bhutto, after overthrowing him. Zia favored Sunni fundamentalists and introduced discriminatory policies against Pakistani Shiites, secularists, etc.
read the whole, illuminating piece at Cole's site

Let's Hope He's Right
Though I might have chosen differently in one or two cases, overall, I'd say I'm very pleased with the announced or prospective nominees so far from Barack Obama. But for those who are more critical, I try to keep focusing everyone's attention back on the salient point. With a strong president, appointees, particularly cabinet appointees execute policy. They work for the president. They execute his policies. I think we have a strong president. And unless and until I see policies that don't square with the platform he ran on (which I don't expect) I see no reason to revise that judgment.
Josh Marshall's point is important, and I do agree that Obama is likely to be a strong President. The most important question, though, is what policies will he attempt to implement?
Josh's TPM

Lost in the Shuffle
As President Bush prepares to leave office, the pundits will start to produce their balance sheets. It is hard to know what they will list under "achievements", but easy to predict their "disasters": Iraq, Afghanistan, economic meltdown, soaring debt and America's loss of global stature.
One other debacle should feature prominently in that second column, but probably won't because it has occurred in a faraway country that most Westerners know only through the film Black Hawk Down - or from recent reports of rampant piracy including the seizure early on Sunday of a Saudi tanker, carrying more than two million barrels of oil, which had an immediate effect on crude prices.
I am referring to the Bush Administration's intervention in Somalia in the name of the War on Terror. It has helped to destroy that wretched country's best chance of peace in a generation, left more than a million Somalis dead, homeless or starving, and achieved the precise opposite of its original goal. Far from stamping out an Islamic militancy that scarcely existed, the intervention has turned Somalia into a breeding ground for Islamic extremists and given al-Qaeda a valuable foothold in the Horn of Africa.
Rewind to the early summer of 2006. For 15 years, since the fall of the dictator Mohamed Siad Barre, feuding warlords had made Somalia a byword for anarchy and terrorism - the archetypal failed state. A tenth of its population had been killed. A million had fled abroad. At that point the warlords were finally routed, despite covert CIA backing, by a remarkable public uprising in support of the so-called Islamic Courts movement that promised to end the lawlessness.
Gone were the checkpoints where the warlords' gunmen extorted and killed. Gone were their "technicals" - the Jeeps with heavy machineguns on the back with which they terrorised the citzenry. For the first time that most Somalis could remember, they were walking around their shattered capital in safety, even at night. Businesses were reopening. Exiles were returning. Mountains of rubbish were being carted away.
"It's like paradise compared to even one year ago," according to Mohammed Ahmed, a doctor who had returned from working at the West Middlesex Hospital.
The Courts had certainly imposed what would be seen in the West as some fairly repressive moral codes. They cracked down on the narcotic qat that rendered half the menfolk senseless, banned sexually explicit films, encouraged women to cover their heads and discouraged Western music and dancing. There had been two public executions. But that was a price most Somalis were happy to pay, and while the Courts' disparate factions undoubtedly included extremists with dangerous connections and intentions, they also included moderates with whom the West could have done business.
European nations favoured engagement. Washington did not. It accused the Courts of harbouring the al-Qaeda terrorists responsible for bombing US embassies in Kenya and Tanzania in 1998. The Courts hardly helped their cause by claiming territory in Kenya and Ethiopia.
Weeks after my visit the US supported - morally, materially and with intelligence - an invasion by predominantly Christian Ethiopia, Somalia's oldest bitter enemy. That replaced what was, for all its faults, Somalia's most effective government in memory with a deeply unpopular one led by former warlords, which had been cobbled together by the international community in Nairobi two years previously.
continue reading Martin Fletcher's piece in The Times (U.K.)

Some Insight Into One
One of the several crises with which Obama will soon have to grapple, that is.
Afghanistan has been almost continuously at war for 30 years, longer than both World Wars and the American war in Vietnam combined. Each occupation of the country has mimicked its predecessor. A tiny interval between wars saw the imposition of a malignant social order, the Taliban, with the help of the Pakistani military and the late Benazir Bhutto, the prime minister who approved the Taliban takeover in Kabul.
Over the last two years, the U.S./NATO occupation of that country has run into serious military problems. Given a severe global economic crisis and the election of a new American president -- a man separated in style, intellect, and temperament from his predecessor -- the possibility of a serious discussion about an exit strategy from the Afghan disaster hovers on the horizon. The predicament the U.S. and its allies find themselves in is not an inescapable one, but a change in policy, if it is to matter, cannot be of the cosmetic variety.
Washington's hawks will argue that, while bad, the military situation is, in fact, still salvageable. This may be technically accurate, but it would require the carpet-bombing of southern Afghanistan and parts of Pakistan, the destruction of scores of villages and small towns, the killing of untold numbers of Pashtuns and the dispatch to the region of at least 200,000 more troops with all their attendant equipment, air, and logistical support. The political consequences of such a course are so dire that even Dick Cheney, the closest thing to Dr. Strangelove that Washington has yet produced, has been uncharacteristically cautious when it comes to suggesting a military solution to the conflict.
It has, by now, become obvious to the Pentagon that Afghan President Hamid Karzai and his family cannot deliver what is required and yet it is probably far too late to replace him with UN ambassador Zalmay Khalilzad. On his part, fighting for his political (and probably physical) existence, Karzai continues to protect his brother Ahmad Wali Karzai, accused of being involved in the country's staggering drug trade, but has belatedly sacked Hamidullah Qadri, his transport minister, for corruption.
Qadri was taking massive kickbacks from a company flying pilgrims to Mecca. Is nothing sacred?
read the rest of journalist and filmmaker Tariq Ali's piece

One Final Word on Sarah
Courtesy of the incomparable James Wolcott

I've been making a valiant effort to avoid Sarah Palin's nickel-coated charm offensive on cable news, subjecting myself all day on TCM to some of the most cardboard anti-Nazi Hollywood films ever perpetrated, drawing the line at a Kay Kyser comedy that cast the word "comedy" itself into disrepute. It isn't that I loathe or fear Sarah Palin. It's that she grates. If she were any more grating, she could cut cheddar. Palin as an entertainment phenomenon might be tolerable and even amusing if this were 1936 and she were a rising star in the M.G.M. stable; what delight we could take each month in our screen magazines keeping up on her romances and exploits--how she cut in front of Joan Crawford in the commissary line, initiating a sassy feud, the romantic sparks that fly whenever she and Clark Gable pass each other on the lot, the nose-wrinkling advice Myrna Loy offered her when she was a new kid just off the bus and still in her parka, and how excited she is over her upcoming role as a dance instructor in Andy Hardy Peels a Banana. But this is not 1936, the M.G.M. galaxy of stars has twinkled its last (apart from Mickey Rooney, miraculously still with us), and Sarah Palin isn't pursuing mere transient fame but actual power, a pursuit driven by a brassy assurance shielding an apparent lack of knowledge about nearly everything and a breathtaking complacency about that voluminous lack. She doesn't seem to care about what she doesn't know, it doesn't seem to register that what she doesn't know might matter and might be worth knowing even if it didn't. Her sentences seem to be missing vital ligaments when she speaks, yielding a concrete poetry similar to Rumsfeld's musings but with nil intellectual content (Rumsfeld's known unknowns and unknown unknowns at least had an ontological coherence). Now we're stuck with her twangy shtick and her family soap opera, which makes the former Clinton saga look like Les Sylphides. Just as Al Gore must live with the shame of elevating Joe Lieberman to the national stage, no act of contrition John McCain can perform will be penance enough for foisting Sarah Palin on us, subjecting us to her supreme sense of entitlement.
Wolcott's blog can be read at Vanity Fair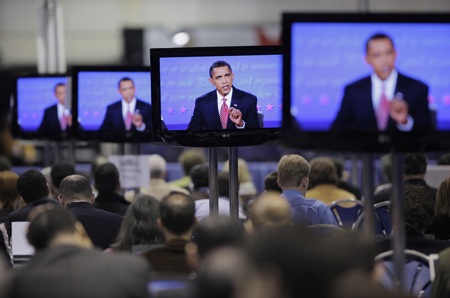 many more very good Obama images at Boston.com

More politics? click here!
•••